links – subscribe – video – swipes – funnel – sales page
Content Syndication Bonanza
"Exponentiate Your Traffic, Leads & Sales with Free Tools!"
Launch Date: Mar 16-21 2017 11:00am EST
$9.95 100% Commissions
OTOs: $27 / $37 : 50% Commissions
$200 in JV Prize Money* – 1st Prize: $100; 2nd: $50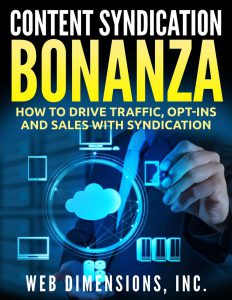 Content Syndication Bonanza is our new information product which teaches your customers how they can easily generate opt-ins and leads with content syndication using free and paid programs to share their content on third party sites.
Among the resources and bonuses included is a huge list of websites in 19 niches to syndicate content, and a list of 75 best Fiverr gigs to create and enhance content for syndication.
OTOs: Video Syndication Software: $37 / Webinar and Video Series $27
POTENTIAL $57 PER SALE IN COMMISSIONS
The front end product is our main product at 100% commissions, upselling to our webinar and video series $27 at 50% commissions then an upsell/downsell of our own re-sellable package of images at $37 : 50% commissions.
So you'll have the opportunity to bank up to $57 per sale with this funnel
Get your affiliate link here:
https://www.jvzoo.com/affiliates/info/253435
Sign up for prize eligibility here:
Sales Page Preview here:
http://1st-access.com/content-syndication-bonanza-sales-page/
Offer your customers a real solution that they'll love and make up to $57 per sale – instant commissions for qualifying JVs.
https://www.jvzoo.com/affiliates/info/253435

Swipes
Swipe 1

Swipe 2

*1st Prize Minimum: 100 sales
2nd Prize Mininum: 50 sales