Introduce Your Customers to a Revolutionary Video Marketing System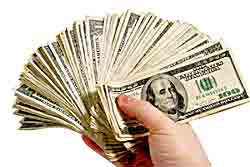 Your customers are going to flip when they see what my new video marketing suite TapVIDz can do for their video marketing - it can literally help them to eliminate 80% of the work for effective video marketing campaigns and promote their businesses (multiple) on auto-pilot.
TapVIDz is a mid- to lower-high-ticket system. Serious video marketers understand the value of the system. The sales page says $2,497 but with affiliate coupons that can be knocked down to $1,497 for one-pay and $497 for yearly subscription. We also can set up a 4-pay as well as monthly subscription. How we set up the subscription can be based on your choice considering your particular buyers list.
All promotions are set up as a 50% hard-wired jv contracts (currently using JVZoo) and no affiliate cookie-ing for assured commissions. I will set up your own sales page on a private url for your promotion only with your own buy buttons. Or you are welcome to set up your own sales page if you wish with the buy buttons - it's up to you.
Make sure you're on our JV list so you can be eligible for special promotions

We value your privacy and would never spam you
TapVIDz is going strong and I will gladly set you up with a private funnel and a webinar or however you would like to promote. Please contact me to get TapVIDz on the calendar for you.
I will not be launching this system publicly - private promos or webbies only.
I will not be launching this system publicly - private promos or webbies only. But just so you know what kind of conversions I tend to get  - here's a great example.
Last February I did a small launch of my mid-ticket Twittter software Twitworkz and the conversion rate was excellent - we had 11.64% conversion rate off the sales page with $16 EPCS! This is a software that really appeals to customers. In fact we are still promoting Twitworkz if you have a Twitter list! This really sells great.

It was a small launch, but lucrative for those on board  - here's a comment from a Skype convo with one of our affiliates on that one:
Customer Testimonials about Twitworkz
We have a history of delivering good products - check out these stats from our previous launches:
We also have a history of supporting fellow JVs - you've seen my name on a number of leaderboards in the recent past. So if you mail for us, we promise to mail for you as well - just hit us up after the launch and let me know how we can help you.